Jesus Sees Us was created by two moms of preschool aged children that were looking for an engaging and relatable way to introduce their children to Jesus and their faith. I think they accomplished that! Jesus can be hard for a child to grasp when He is just a concept, but Maureen and Kelly have created a way to make Jesus tangible.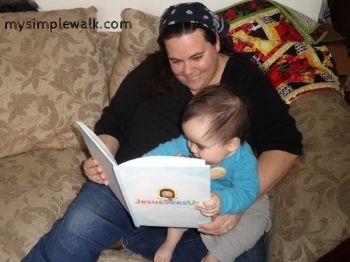 The set includes a doll, that has a warm and loving face, with a soft body and molded head that mirrors the image of Jesus in the book.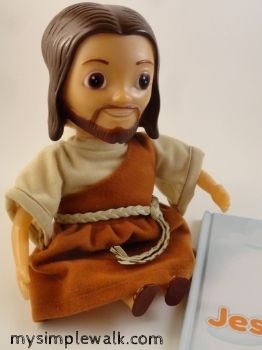 The book, in hardcover, has beautiful multicultural pictures depicting biblical stories of Jesus with Scripture reference and correlating lessons on how we can model our behavior like Jesus today. I can't say enough about how much both my grandson and myself loved the pictures. They are bright, positive, and definitely include a wonderful mix of skin tones, which I think is so awesome! I would love to see a similar book to go with the doll that is a board book in the future.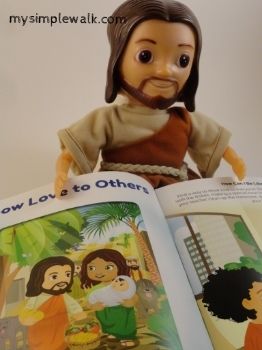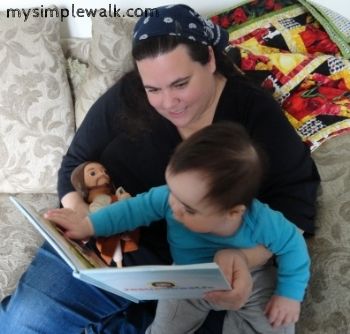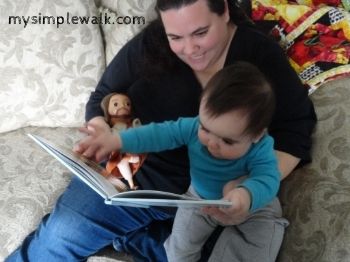 The recommended age is 2 to 6. My grandson is younger than the recommended age (he is 9 months old), but just having the doll to show him Jesus when we talk about Jesus is great. In this picture I was saying "give Jesus love" and he did
I do think the ages of 2 to 6 is right on the mark though. This book is GREAT to read to your child or grandchild.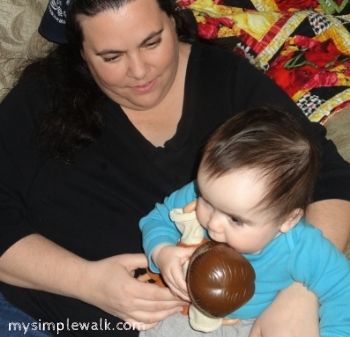 This set would make a great gift for many occasions, including Easter, Christmas, Baptism, or birthday! Would also be a great gift for grandparents to buy when visiting their grandchild, what could be more special than sharing your faith with your grandchild!
Check out Jesus See Us here
Visit their website –
JesusSeesUs.com
You can order Jesus Sees Us from
their website
or by clicking the Amazon link below. Either way make sure you enter the
coupon code JSBLOG10
for $10 off! This set would make a
great Easter gift
, so order today!
Disclosure (in accordance with the FTC's 16 CFR, Part 255: "Guides Concerning the Use of Endorsements and Testimonials in Advertising"): Many thanks to Propeller Consulting, LLC for providing this prize for the giveaway. Choice of winners and opinions are 100% my own and NOT influenced by monetary compensation. I did receive a sample of the product in exchange for this review and post.
This blog post contains affiliate links, if a purchase of the book is made using the affiliate link included in this post, My Simple Walk receives a small percentage of the purchase. Thank you for supporting this website.