Gardening is still pretty new to me. Growing up my mother had a garden for a few years, but I honestly don't remember much about it, except that no matter how much fencing my father put around it, the deer and bunnies got to the food.
Last year was my first real attempt at a serious fruit and vegetable garden. Let's just say it was a bunch of lessons learned with very little food to show for it. Some of my seeds never turned into anything. I wasn't sure what I did wrong, but my thought was the weed population.
Remember the mystery "food" I showed you, that I suspected was lettuce? Guess what, it is! With all the recent rain it has flourished! I actually pulled a clump out and took it to my neighbor for his opinions. He is often outside mixing his compost bin. He confirmed that it was indeed lettuce and really good lettuce at that. He found it just as amazing as I did that seeds I planted last summer came back this spring to give us a very healthy crop of lettuce. The seeds I did plant this year, however, aren't doing a thing. Maybe there is something to planting the year before? Or maybe it is just me
Which is always a good possibility
After finishing my chores, I went out and cut the lettuce from the plant. My neighbor, Chet, said cutting it was better then pulling because it will grow back. With my basket full of lettuce cuttings I made deliveries to three of my neighbors…. Chet, Thelma and Louise (Thelma and Louise live across the street from each other and they are the best of friends, those aren't their real names, but that is what they like me to call them). Thelma was having out of town company so she took enough to feed herself, Hubby, and family of 4 that was visiting. Chet took enough for a few nights for his wife and himself, and Louise took a bowl full to put on her BLTs….. and I still came home with enough lettuce for salads for my family! That was on Monday.
Today (Thursday, even though I keep thinking it is Friday), the lettuce has all grown back, nice and full, enough to feed myself and the neighbors for a few days. I'm not sure how many times I can cut it and have it grow back, but for now we are really enjoying the fresh daily salads.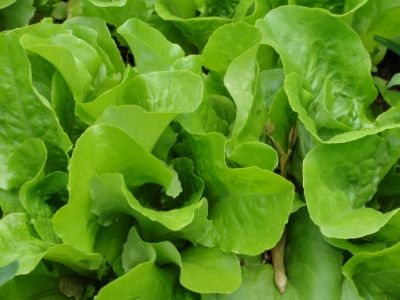 I started some lettuce under the plant light in the kitchen in an attempt to grow lettuce year round inside, so I will keep you up-to-date on how that grows!
Do you know any secrets to growing great lettuce?
---
Next Page »