Today was beautiful. The morning air started out cool and crisp and the sun peeked out occasionally from behind rain-free clouds. After some yard sales, we went off to visit Dinosaur Rock. There is a gravel parking lot across the main road from the trail entrance. The road tends to have cars flying up and down, please use caution when crossing. There are no bathrooms.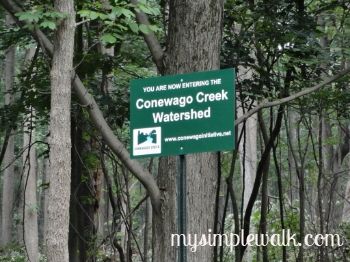 The trail from the road to the dinosaur rocks isn't long at all and could be a quick stop on your travels for the day. It is very sad that the rocks have been defaced with graffiti, but looking past that, it truly is amazing to see.
Since we enjoy the hiking part, we ventured beyond the rocks and onto a trail. I'm not sure the trail is intentional, but it seemed as though it had been traveled before, so we gave it a try. It hasn't been recently traveled, as apparent by the number of spiders I walked into. After a while, I used my walking stick to clear the path of webs for me.
Under the canopy of trees, we didn't require sunglasses and were able to take in the view. It is easy to get lost gazing among the trees, but the constant heartbeat of the neighboring turnpike kept us grounded in reality.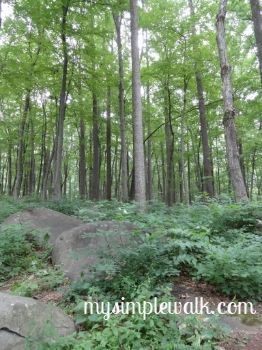 The trail became quite narrow in some places and very muddy in areas that once appeared to be streams. One such area, did have a tiny flow of water. There were many downed trees, some more recently fallen than others. We climbed over and under until we ran into a nest of trees that wouldn't have been easy to navigate. At that point we turned around.