I know I know, it sounds like a pitch to get you to "click here", but really it works! I can't stand the smell of chemical cleaners, or what it does to my home and the environment. Some, however, are easier to give up than others. I'm not proud of it, but I still have a container *whispers* of comet cleaner in the cabinet. Recently though I found a great alternative and almost everyone has these two items in their homes.
Baking Soda and Dish Soap
I just use a small container to mix baking soda and enough dish soap to make a paste.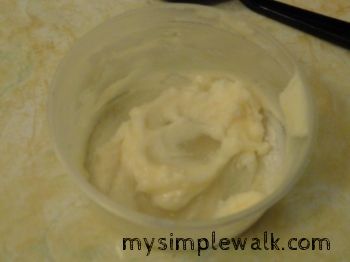 Use any scrub brush or old tooth brush with a little water and just scrub. It took no time at all to get the tile from the "before" to the clean "after".