50 Days of Being Thankful
October 10, 2012

Posted by Kelly

under

Thankful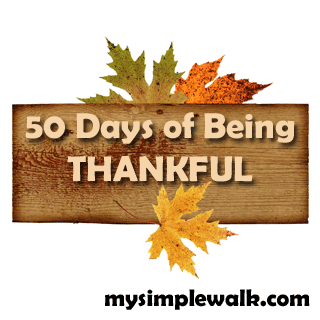 It is so easy to forget about all the wonderful things we have to be thankful for, especially when we are told everyday about something new we "need" to be happy. Advertisments come in the mail, on tv, on the internet, and even as text messages on our cell phones. Friends are sharing their newest purchase or their great life experiences or high paying job and there always seems to be something new along our daily journey that we think will make our lives happier, better, or easier. Some days it is easy to forget about how much we all have to be thankful for.
There are 50 days until Thanksgiving. This is the perfect time to reflect on all the great things and people in our lives. It is also a good time to share with our children and have them share with us, the beautiful experinces and moments that we are thankful for. Starting tomorrow and every day for the next 50 days, I will write a post on what I'm thankful for that day. I invite you to join me! Each day, for as many days as you want, post on facebook, twitter, create a blog post, or simply reflect with your family on what you are thankful for.
If you like you may grab the button, share this post on twitter, or add your link to the linky below. The linky will run for 50 days, so you can keep adding posts as you post them for what you are thankful for that day. I can't wait to read what you write!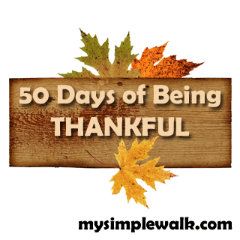 Leave a Reply