Today is the perfect day to work on the challenge from Reduce Footprints. She challenges everyone to use a clothes line instead of a dryer.
Today is beautiful here, the sun is shining, the weather is warm, and a wonderful breeze is blowing. My younger daughter, my little buddy, and I went for a walk around the neighborhood. While walking, we saw a neighbor outside hanging her clothes on the line. I went over to talk with her and found out she is going through a lot with a sick husband and she appreciated an ear to listen. While we talked, our hands were working hanging the clothes on the line.
Such a simple act, to hang clothes on the line, but it can mean so much more. There was a time when neighbors saw each other daily while hanging clothes on the line. They would chat, catch up, and visit while doing a chore that needed to be done. Erma Bombeck even wrote about clothes lines in one of her books, she said you could tell when someone was sick, arriving home from a trip, or had company coming based on what they hung on the line.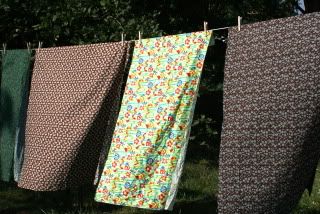 We use our line throughout the spring, summer, and fall…. I sadly haven't adjusted yet to my hands freezing off in the winter to use the line during those days. Maybe today is the perfect day to start hanging out your clothes, if you don't already do so. It will save you money and maybe connect you with your neighbors. It will allow you to enjoy the beauty outside and appreciate the joys that only nature can bring.