I always thought I was pretty good at creating a budget, but really didn't know what I was doing until after reading Dave Ramsey's "Total Money Makeover". It all started when a co-worker of Hubby's lent him the book. The next morning I woke up to find our credit cards on the counter with scissors on top of them. We never really carried a balance and just had them for "emergencies", so I tried to talk some sense into Hubby, who just kept telling me to read the book. I said I would read the book, if he waited until after I was done to cut up the credit cards. It is now 4 months later and our lives are completely different.
Shortly after reading the book, we paid off the balances on the cards and Hubby came up with a creative way to get rid of them (I will have a video on that soon to share). We also created a very elaborate budget after someone (we don't know who, but we honestly can't thank them enough) sent us Dave Ramsey's Starter Special. It came with everything we needed to start our budget, our envelopes, and the baby steps.
If you have never read one of Dave Ramsey's book, I highly recommend "The Total Money Makeover". If you are like us and enjoy listening in the car, we all (our younger daughter included) really enjoyed his "13-Lesson Audio CD Library", which included some lessons from the Financial Peace University.
If nothing else the program gave us hope. Hope that one day we will be debt free (our remaining debt is all medical and the house) and be able to have our dream of a cabin in the woods. Yes we have challenges, like my Hubby's kidney failure, but we can do it. It will take many years and hard work, but it is possible to have our dream. We can't thank Dave Ramsey enough for that hope.
One of the best parts of Dave Ramsey's program is the ever-so-simple envelope system. It has been around long before Dave Ramsey, but his program teachs you how to use the envelopes and how to make the system (and your money) work for you. Dave Ramsey sells cases and envelopes on his site. We use one of his cases and his envelopes and then we also have created two additional cases and envelopes to use for other things.
We have envelopes for the following things…
Family Activities
Food
Miscellaneous
Home Improvement
Medical
Car Repairs
Household Items
Clothing
Then we have "cards" where we keep track of what each dollar in our bank account is for. They include…
Gas
Mortgage
Electric
Debit Bills (these are bills that you pay from your bank account, we have some of these listed individually)
SWT (Sewer, water, and trash bills)
God (this is for donations and tithing)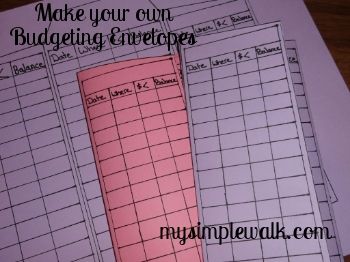 I created a template so I can easily print out and create my own envelopes that fit into my accordion carrier. I like to print these out on colorful cardstock. Budget Envelope System Template.
Please watch my video on how to assemble the envelopes.
How to fill in the envelopes
You start by adding money. The first entry should be the date, where the money came from (for example pay check), the amount with the $ in front and then in the balance write what is in the envelope. Then you can start spending. Below is an example of what to write on the envelope when you spend money. Use the $ when adding money and the < sign when you are subtracting money from the envelope.