Today's challenge is about laundry.
When the weather is nice, my younger daughter and I enjoy doing our laundry outside. We have a simple bucket that we fill with cold water and a little detergent and then using a plunger we "wash" our laundry. After we are done washing we wring it in our beautiful antique wringer.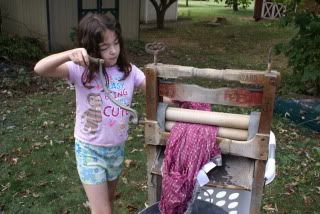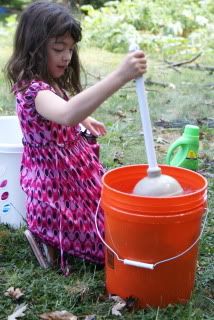 These pictures were taken 2 years ago, I can't believe how young she looks!
Then we hang it on the laundry line to dry in the breeze. I love watching the clothes (or fabric) blowing in the breeze!
One day I would like to own one of these! Younger daughter got to try it out at a local event we attended.
No you don't have to go the direction we did with your laundry, but there are small changes you can make. Use cold water, use dye free detergents or better yet something natural like Soap Nuts, and hang your clothes outside to dry!
See you tomorrow for the next challenge!