I am thankful for my students
October 25, 2012

Posted by Kelly

under

Thankful
In 2002 I started my journey as a teacher. It started when I decided to home educate my older daughter, who is now a junior in a traditional brick and mortar high school. At first I just taught my girls, but within weeks I was teaching other children at a small co-op. The classes varied year to year at our co-op, but all the moms took turns teaching. The second year of homeschooling, I also started teaching at my church, as the 1st grade CCD teacher.
The years would quickly pass by as I homeschooled my girls and taught in homeschooling co-ops. After moving into our house, I started teaching sewing, quilting, and cross stitching. I also created some you tube videos to teach some of what I know. The past several years I have taught pyrography and quilting at my local homeschooling co-op and last year I added photography and this year creative art sampler. Starting in November I will also be teaching finishing techniques for cross stitch designs at a local needlework shop.
I don't know how many people I have taught over the years, but I have had a great time doing it. Today one of my students asked if a rumor he heard was true. When he found out it was and that I won't be returning as a teacher next year, several students verbalized their disappointment and said some of the nicest compliments I have ever heard. Their words completely made my day! It has been a blessing to have my life filled with great students.
If you like you may grab the button, share this post on twitter, or add your link to the linky below. The linky will run for 50 days, so you can keep adding posts as you post them for what you are thankful for that day. I can't wait to read what you write!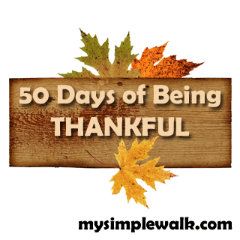 Leave a Reply