I am thankful for the calm
October 26, 2012

Posted by Kelly

under

Thankful
News of bad weather is all over the TV and Internet. Hurricane Sandy, which should only be a tropical storm when she arrives here, is on her way. Today I took my little buddy and my younger daughter outside to play. The weather was perfect, even though the sun wasn't shining. We had a great time. I'm thinking this is the calm before the storm.
Praying hard that we don't lose power! I can live without the computer, the tv, and even the fridge, but hubby can't live without his diaysis machine!
If you like you may grab the button, share this post on twitter, or add your link to the linky below. The linky will run for 50 days, so you can keep adding posts as you post them for what you are thankful for that day. I can't wait to read what you write!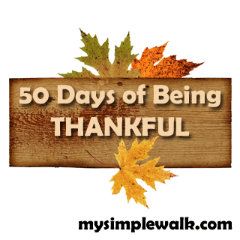 Leave a Reply