SmartKlean Stain Remover – Review and Giveaway – Ends July 14, 2012
June 27, 2012

Posted by Kelly

under

Giveaway
Do you remember my SmartKlean laundry ball review? If you don't make sure you check it out and use the special link to get free shipping on the Laundry Ball from SmartKlean!
Now SmartKlean is introducing their newest product – SmartKlean Non-Toxic Stain Remover. It is chemical free and easy to use.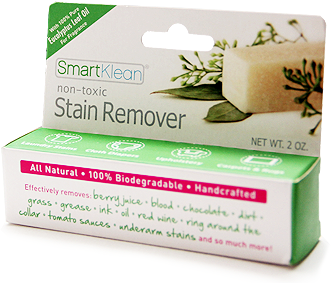 When it arrived I actually wasn't sure what I was going to use it for, since I don't normally have stains on clothing. Of course just thinking that made stains appear daily. First there was a hummus stain on my teenager's shirt. I wet the shirt, rubbed the stick on the stain, and then threw it in the wash. It came out with no hummus! Then there were stains on my apron. Once again I wet the apron, rubbed the stick on the stain, washed it with the SmartKlean Laundry Ball and all the stains came out. The real test came when my teenager brought home her very light colored jean shorts with berry stains all over the rear. I thought for sure they were never coming out and so did she, she asked if we could tie-dye them if I couldn't get the stains out. Well the amazing SmartKlean products got ALL the berry stains out and she wore those shorts to the fair on Saturday. I am impressed.
So we know it works, but what exactly is in the product? They list every ingredient – Coconut Oil Palm Oil, Canola Oil, Water, Eucalyptus Globulus Oil, Litsea Cubeba Oil, Sodium Hydroxide, Borax. I like that, I like when the ingredients are safe, honestly listed, and not hiding under long complicated names.
Here are some other reasons to like this product:


Make sure you check out their website for Free shipping on the SmartKlean Laundry Ball using this link and check out all their new product details using this one.
Want a chance to win your own SmartKlean Stain Remover? Use the rafflectoper form below to enter. Make sure you read all the terms and conditions.
a Rafflecopter giveaway
22 comments on "
SmartKlean Stain Remover – Review and Giveaway – Ends July 14, 2012

"
Leave a Reply