Today I am thankful for indoor plumbing
October 11, 2012

Posted by Kelly

under

Thankful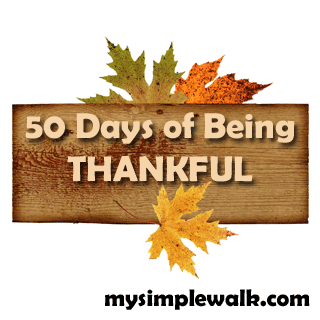 Before writing this post I decided to do some research on indoor plumbing and I want to start by saying, after what I read, I'm even more thankful!
When I realized this morning I was thankful for indoor plumbing, it was while I was in the shower. It is a cold morning and I can't imagine having to walk to the stream with some buckets, carry them home, heat them up, and put them in a very cold tub to take a bath. Then after doing all that work, I would want to wash the children. I'm guessing at that point it would be time for lunch and half the day would appear to be over. I didn't grow up needing to do that nor have I seen that except on "Little House on the Prairie". But one can imagine how much work and how time consuming simply taking a bath would be.
After thinking about it some more I realized the same was true for washing dishes and doing laundry. Simply having indoor plumbing makes those tasks so much easier. Reduces the time it takes, which leads to more time with my family. I often comment that there are not enough hours in a day to get everything done that I would like. Knowing that these tasks are now easier than they would have been a hundred or so years ago, I'm thankful that I have been given extra time with my family.
The biggest reason I am thankful for indoor plumbing is that it allows my husband to stay home for his peritoneal dialysis. There are many health issues that require a patient to have indoor plumbing to go home from a hospital. A nurse from my husband's dialysis team even came to the home to check to make sure we had everything we needed for his care.
Now to my research. I wanted to know how many people don't have indoor plumbing, but it seems there isn't an answer out there to my question, at least not from a reliable source. So I changed my question.
2.6 billion people are toiletless. Indoor plumbing also includes having the use of the toilet. That is a lot of people going without a place to go. This leads to many deaths. To those of us with toilets, we probably don't often think about how much they help protect our health.
A visit to water.org was very eye opening. Every 20 seconds a child dies from a water related illness. Women spend 200 million hours a day collecting water. 780 million people lack access to clean water. What an amazing gift it is to turn on the faucet each day and provide our families with clean water, food cooked with that clean water, and clean dishes to eat from.
Thank you God for my indoor plumbing!
If you like you may grab the button, share this post on twitter, or add your link to the linky below. The linky will run for 50 days, so you can keep adding posts as you post them for what you are thankful for that day. I can't wait to read what you write!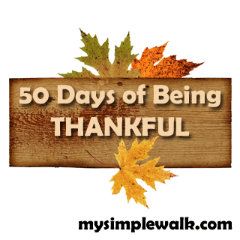 Leave a Reply